Hunter Engineering Company manufactures some of the world's finest alignment systems and wheel balancers—we just purchased one of each.
That means, now your tires can reap the benefits that come along with a top notch auto repair shop using equally as high quality equipment.
Read on to learn more about our two new systems, then swing by Big Oak Citgo for a balance and alignment.
HawkEye Elite Alignment System
Hunter is without a doubt the number one alignment system manufacturer, and their HawkEye Elite is their best system. This machine is the OEM alignment equipment for carmakers like Mercedes, BMW, Jaguar, Land Rover and many others. But don't think it's solely designed to align luxury vehicles—your Camry, Accord or the like will also appreciate an alignment used with the HawkEye Elite.
New cars require acute precision across the board, and 4 wheel wheel alignment is no exception. Hunter's proprietary Wintoe software insures your steering wheel will remain perfectly centered, and the new adapters make protecting your wheels easy.
Annual wheel alignments are recommended in Morrisville, PA and surrounding areas because potholes are a major problem come the late winter and early spring around here, and they're a leading contributor to misalignments.
SmartWeight Balancer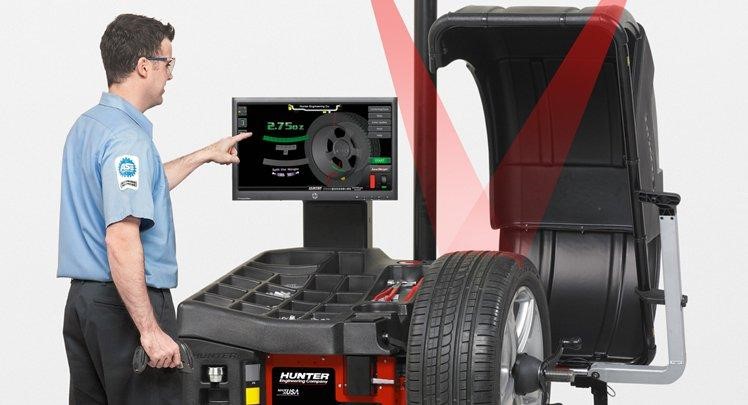 Much like the HawkEye Elite, SmartWeight comes with all the accoutrements that a mechanic needs to balance your tires with precision. With features like the ability to hide wheel weights behind wheel spokes, proprietary smartweight software, exact fit mounting cones and more, your wheel balance from Big Oak Citgo is going to be right from any angle.
Sure, we have the best equipment in the business, but that would be meaningless without a team of mechanics who know how to use them. Fortunately, there's no such thing as lack of skill here at Big Oak. As we approach the end of winter, chances are you're going to need an alignment and balance. We encourage your to come down to our Morrsiville, PA auto repair shop, where the industry's best equipment is in the hands of the industry's best mechanics. See you soon, and safe travels—don't forget to watch out for potholes.
Image Source